Round five of the world championship was held at the legendary track of Pietramurata.
Kevin Horgmo got a good jump out of the inside gate in race one but was closed down entering the first turn to charge down the pit-straight to turn two twelfth. He had already advanced into the top ten by the end of the lap but a collision halfway round the next lap demoted him to twenty-ninth. Undeterred by the momentary setback the Norwegian stormed back into the points-scoring positions by half-distance and continued to push, making his final pass for twelfth on the very last lap. Another difficult start in race two saw him eleventh on the opening lap but he immediately set to work on hauling in the riders ahead to advance to eighth after a quarter-of-an-hour; he was fifth at twenty-five minutes and closed down the gap to the leaders in the final ten minutes to finish just three seconds away from third place. He remains seventh in the series points standings.
Kevin Horgmo: "It's just a little unfortunate that I crashed with another guy on the second lap of the first race and had to come back from twenty-ninth to twelfth. It's always been difficult to pass here so that was quite an achievement. I got another bad start in the second race but I came through from outside the top-ten to fifth. I felt my riding was really good; I just need to improve my starts. "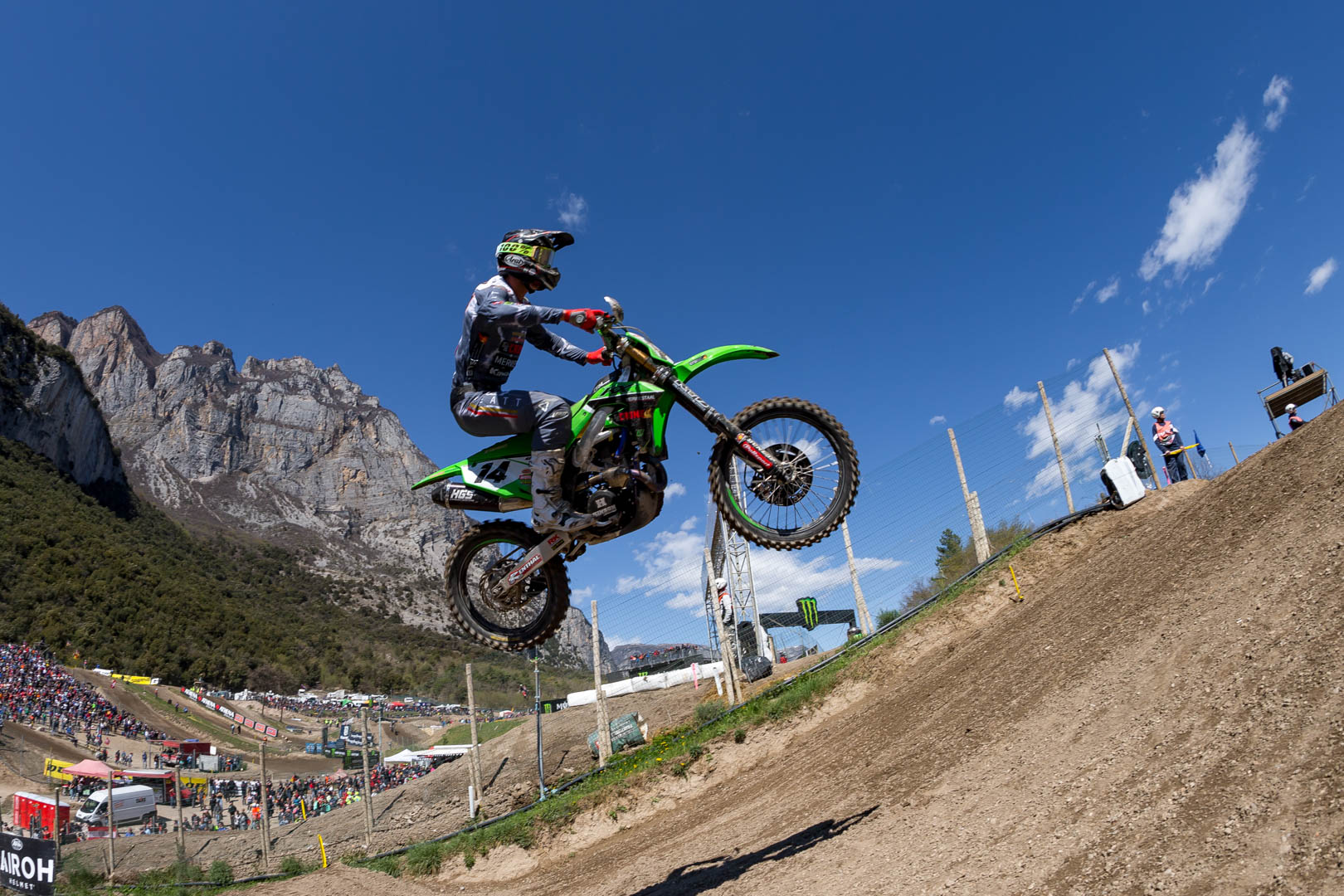 Jed Beaton once again showed his track craft to advance to seventh on the opening lap of race one with clever line-choice and he maintained that position with top-six lap times for half the race before the on-going effects of the shoulder injury he sustained at round two of the series forced him to slacken his pace to finish fifteenth. The second moto followed a similar pattern to finish fourteenth; he remains tenth in the championship standings.
Jed Beaton: "It's the same as last week; I'm still struggling with the shoulder. I don't have any pain but there's just no strength after a bit of riding. When I'm racing the first ten-fifteen minutes I'm up the front battling, but then it drops off. It's a little difficult for me to accept at the moment but it is how it is; now we have two weeks to try to get it sorted as best we can before the next GP.
Overall Grand Prix MX2 Arco di Trento:
1 Tom Vialle 50 Pnt
2 Kay de Wolf 37 Pnt
3 Mikkel Haarup 37 Pnt
4 Thibault Benistant 36 Pnt
5 Mattia Guadagnini 32 Pnt
6 Kevin Horgmo 25 Pnt
World Championship Standings MX2:
1 Tom Vialle 208 Pnt
2 Jago Geerts 194 Pnt
3 Mikkel Haarup 169 Pnt
4 Simon Laengenfelder 154 Put
5 Kay de Wolf 150 Pnt
7 Kevin Horgmo 136 Pnt
Overall MXGP Arco di Trento:
1 Tim Gajser 50 Pnt
2 Maxime Renaux 40 Pnt
3 Jorge Prado 38 Pnt
4 Jeremy Seewer 36 Pnt
5 Glenn Coldenhoff 32 Pnt
15 Jed Beaton 13 Pnt
World Championship Standings MXGP:
1 Tim Gajser 236 Pnt
2 Jorge Prado 203 Pnt
3 Maxime Renaux 184 Pnt
4 Jeremy Seewer 160 Pnt
5 Glenn Coldemhoff 141 Pnt
10 Jed Beaton 82 Pnt