F&H Kawasaki Racing Team's Kevin Horgmo maintained his top-six ranking in the FIM World MX2 Motocross Championship with eighth overall in round two of the series at Riola Sardo on Sardinia.
The Norwegian gambled on taking a central gate in race one to ensure a clean run to turn one, away from the bar-banging amongst the other favorites, and it seemed to be paying dividends as he approached the turn with his nose in front, but a rival from the inside ran to the outside of the turn, taking the Kawasaki rider with him, to negate the tactic. The F&H teamster was quickly back into the top-eight leaderboard runners but the hot pace offered few opportunities to pass and, despite his persistence, it was only during the final four laps that he was able to advance further to his eventual seventh. Lining up at the gate amongst the other front-runners for race two Horgmo rounded turn one ninth and stayed there all moto as a single fast line developed in the sand. Eighth overall on the day, he retained his top-six ranking in the series heading to the next round at Frauenfeld in Switzerland over the Easter weekend.
Kevin Horgmo: "Not my best day; in fact I'm a little disappointed. My Quali was OK but I just couldn't replicate it on race day. To be honest I would have prefered it to be rougher. The track was just so fast today; if it had been bumpier I could have ground it out and relied on my physical fitness."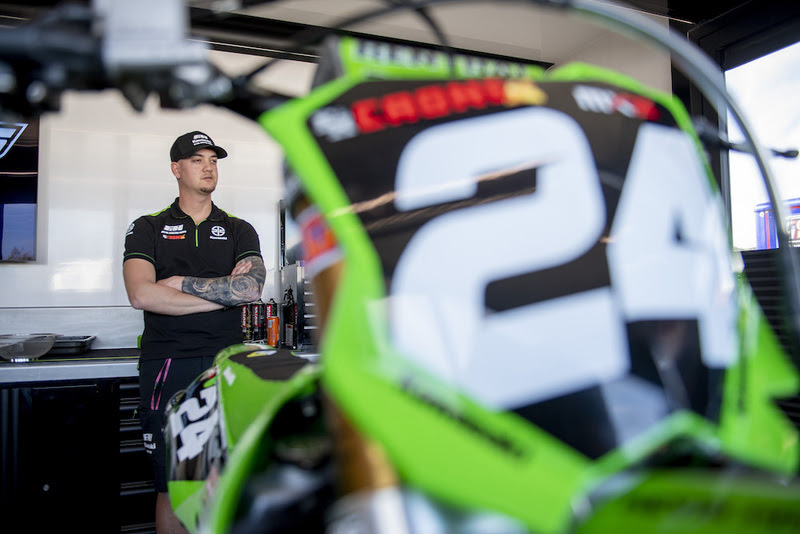 Horgmo's Spanish teammate David Braceras continues to establish himself in his rookie GP season and was running a solid twelfth after twenty-five minutes of the first moto until a rude attack by a rival sent them both sprawling on the ground. He remounted to finish eighteenth. An incident on the first lap of race two left the youngster last but he responded bravely to advance to fourteenth after twenty minutes before the exertions of two tough races began to tell and he surrendered two places during the closing laps. Fifteenth overall on the day he is now also fifteenth in the series rankings.
David Braceras: "I earn a good gate from twelfth yesterday in Qualifying and was running tenth-eleventh-twelfth for a long time until another rider blocked me and we crashed. I crashed in the second corner in race two; I came back to fourteenth but then I started to have some trouble with my legs. We will continue to work and I know what I need to work on."