F&H Kawasaki Racing Team's Kevin Horgmo defied a Saturday shoulder dislocation to earn a brave sixth in the tenth round of the FIM World MX2 Motocross Championship on the Indonesian island of Sumbawa.
On his return to racing after a heavy crash in Germany two weeks ago the Norwegian had an unfortunate fall during morning Free Practice, temporarily dislocating his shoulder as he landed awkwardly. Team coach Marc de Reuver was quickly on-hand to help him pop the shoulder back into place and he put in a sterling performance in the Qualifying race. His KX250 sweeping impressively around the outside of turn one the F&H teamster defied any slight discomfort in his shoulder to hold a secure third for six laps before slithering to the ground on landing as he bounced off the crest of a landing mound; he quickly remounted in fifth and held that position to the chequered flag, thus equaling his best Qualifying performance of the series.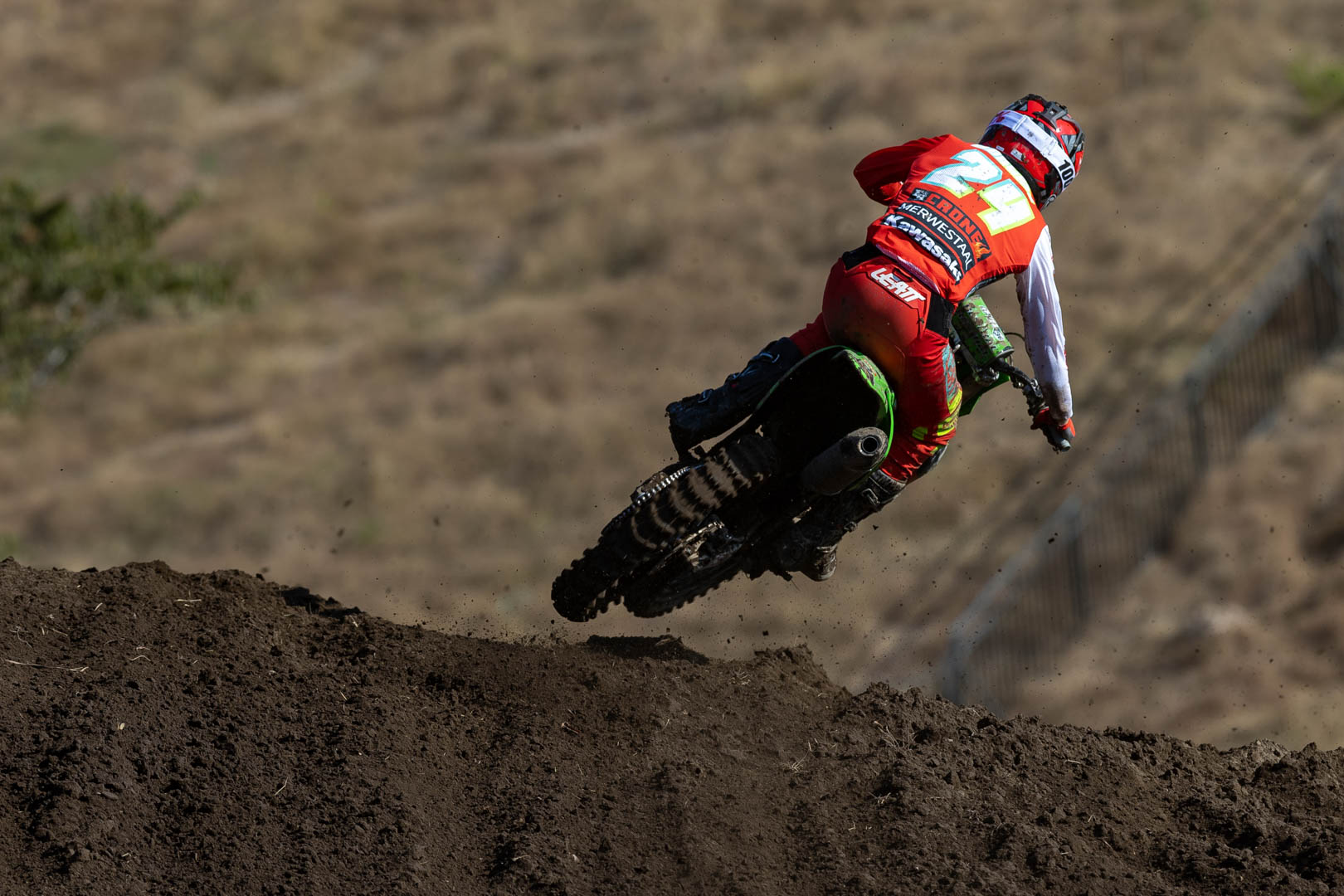 As in Qualifying the Norwegian chose a central gate for the first GP moto but he was joined by several other factory runners and didn't get quite such a clean run into turn one as on the previous day to emerge eighth. With little positional movement through the early stages as riders respected the tropical heat it was the third lap before he moved to seventh in a fast-moving leaderboard train and on lap eight of seventeen he advanced methodically to sixth, a position he held until three laps from the end when he surrendered one position as the inevitable fatigue set in. Favouring an inside gate for race two the lone Kawasaki rider streaked through turn one in the top-five and after a series of exciting tussles through the opening laps he made third his own by lap four with a decisive pass. He continued to push and came desperately close to taking over second a couple of times before the exertions in the heat on the back of his recent lack of riding following a crash in Germany two weeks ago started to take its toll and he eventually finished fifth for sixth overall. He remains ninth in the series points chase entering the second half of the campaign.
Kevin Horgmo: "It was a really tough weekend with the heat. That's the same for everybody but after the crash in Germany and then the dislocation in Free Practice yesterday I was just happy to be able to ride today. I didn't get the best start in the first moto but I was riding quite good until I felt a little empty towards the end. I was running a good third in the second race and really wanted that second place but I couldn't quite get past and towards the end of the race I started to feel the heat again; I think that was understandable as I had almost no riding the last two weeks after Germany. But we need to be positive and I was happy to finish both motos in the circumstances. Now we can relax for a couple of days on Lombok and then we see for next week."