Kevin Horgmo of the F&H Kawasaki Racing Team was fortunate to avoid a cartwheeling rival at turn two in the opening moto to settle into an early fourth place until he fell victim to a slippery patch halfway round the lap and was pushed back in an instant to fifteenth. By half-distance the Norwegian had broken into the top ten again and, despite another slip, continued to push to advance decisively to eighth at the finish. The young Norwegian made it two holeshots in a day for Kawasaki in race two and showed emphatically how he is maturing from week-to-week by leading for seven laps. He remained unruffled after the two championship leaders came past in rapid succession to stick with the more experienced duo; he even closed back down the eventual GP winner as the race entered the final two laps but could not quite make a pass. Nevertheless he claimed a career-first GP moto podium. Fifth overall on the day he is now seventh in the series points standings, just four points from fifth.
Kevin Horgmo: "Unfortunately I had two small crashes in the first race but my riding was solid and I had third-fastest lap time of the moto so I was confident I could have a good second race with a good start. And that's what I did with the holeshot! My Kawasaki was perfect over the gate and through the first turn and I could lead a GP for the first time. Even when I dropped back to third I stayed right behind a world champion for the rest of the race so I could be happy with my speed. Now I'm looking forward to next weekend at Arco; I won EMX there last year so I have good memories of the track. "
Jed Beaton of the F&H Kawasaki Racing Team had fond memories of the Agueda track where he recorded his maiden GP podium during his MX2 career and was holding a strong top-ten placing in the first moto until he came together with another rider and was pushed out of the points-scoring placings before recovering to finish eighteenth. The second moto looked even more promising as he raced top-six through the early laps but, troubled by the shoulder he injured at Mantova last month, he lost momentum during the second half of the race to take the chequered flag thirteenth. The Australian is now twelfth in the championship standings.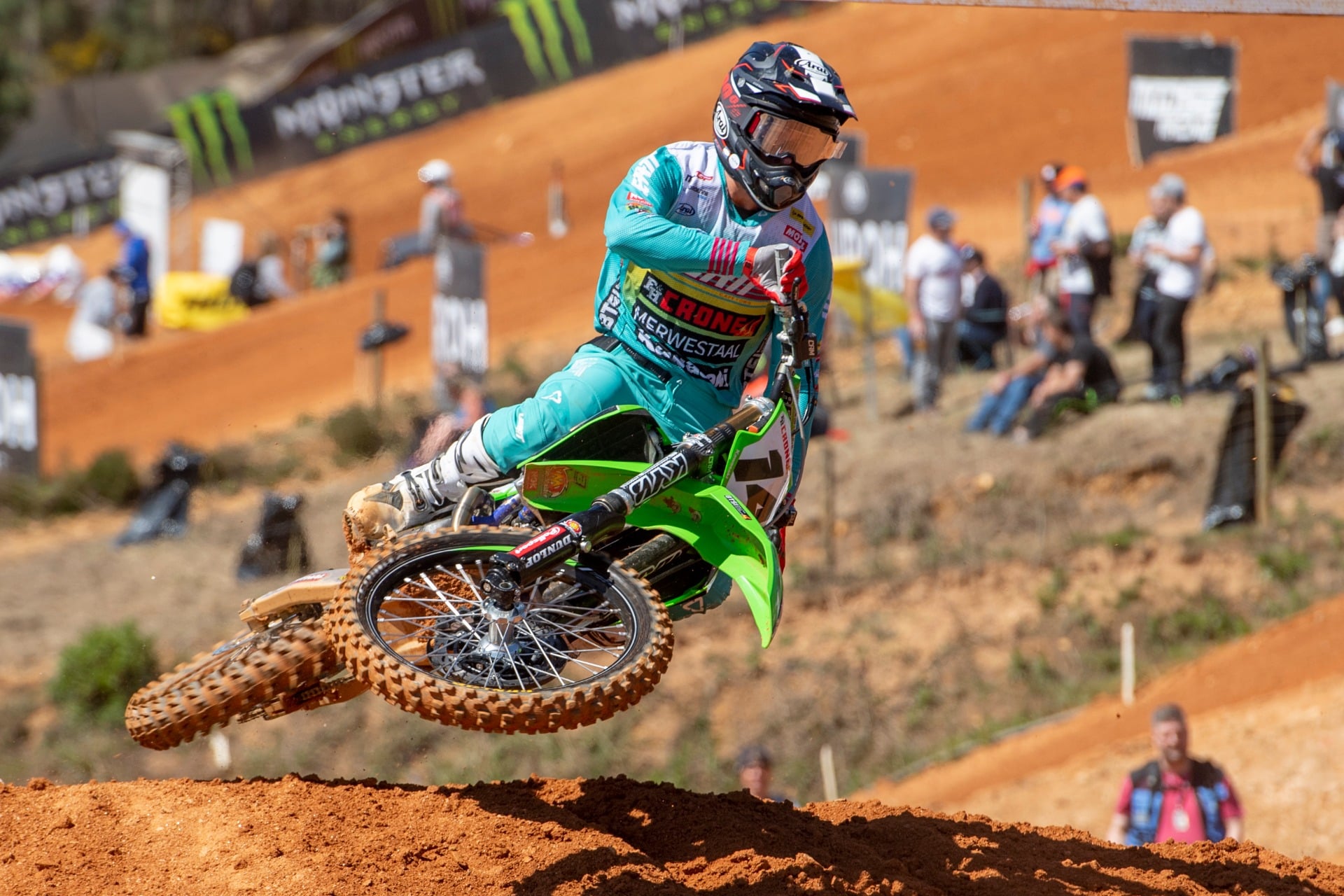 Jed Beaton: "I felt pretty good for the first ten to fifteen minutes of both races, but in the first moto I came together with someone and snapped off my clutch lever so I couldn't do much after that. In the second moto I was good again for fifteen to twenty minutes but then I got a lot of arm pump in my left arm. That's from the crash in Mantova; my shoulder doesn't feel painful but it is still weak and I just don't have the strength. I don't want to be in this position but it is how it is; when I get it sorted I'll be back where I ought to be. "
Overall Grand Prix MXGP Portugal:
1 Jorge Prado 47 Pnt
2 Tim Gajser 45 Pnt
3 Brian Bogers 40 Pnt
4 Glenn Coldenhoff 38 Pnt
5 Pauls Jonass 30 Pnt
15 Jed Beaton 11 Pnt
World Championship Standings MXGP:
1 Tim Gajser 186 Pnt
2 Jorge Prado 165 Pnt
3 Maxime Renaux 144 Pnt
4 Jeremy Seewer 124 Pnt
5 Glenn Coldenhoff 109 Pnt
12 Jed Beaton 69 Pnt
Overall Grand Prix MX2 Portugal:
1 Tom Vialle 47 Pnt
2 Mikkel Haarup 40 Pnt
3 Jago Geerts 37 Pnt
4 Kay de Wolf 35 Pnt
5 Kevin Horgmo 33 Pnt
World Championship Standings MX2:
1 Jago Geerts 174 Pnt
2 Tom Vialle 158 Pnt
3 Mikkel Haarup 132 Pnt
4 Simon Laengenfelder 130 Pnt
5 Andrea Adamo 115 Pnt
7 Kevin Horgmo 111 Pnt
Photocredits – Fullspectrum Media